Omaha Spinal Cord Injury Lawyers
Experienced Firm Representing Clients with Spine Injuries
When you're involved in a serious accident, one of the most likely – and devastating – outcomes is a spinal cord injury (SCI). The CDC estimates that these injuries cost the healthcare system more than $40 billion to treat every year, and as many as 15,000 new injuries may occur annually. Living with a permanent spinal cord injury and getting the ongoing treatment you need can be both expensive and painful, and there is little that can compensate for the extent of your injuries. However, if you've been injured as a result of another's negligence, you may be entitled to financial damages. At Burnett Wilson Law, our team of spinal cord injury attorneys can help you build a strong legal strategy to recover much-needed compensation.
Our team at Burnett Wilson Law can act as your advocate if you've sustained a serious spinal cord injury. Contact us today at (402) 810-8611 for a free consultation in Omaha.
Overview of Spinal Cord Injury Categories
There are many different types of spinal cord injuries, but all of them are considered to be serious, as they inhibit basic motor skills and movement. The two major categories of SCI are incomplete and complete. In an incomplete spinal cord injury, the spinal column has only sustained a partial blow and may still function in some areas. You may not be fully paralyzed, but you can still suffer from a range of issues such as limb paralysis, chronic pain, bowel dysfunction, and lack of sensation in certain areas.
A complete spinal cord injury, on the other hand, often results in permanent paralyzing conditions like paraplegia or tetraplegia, as the spinal column has been so damaged that healthy communication with the brain is virtually nonexistent. While physical therapy and other groundbreaking treatments have been shown to help patients with regaining limited motor skills, it is much more expensive and difficult to treat a complete spinal cord injury. Chances are high that you will need ongoing care for your injuries.
There are also 4 major regions where you may have sustained a spinal cord injury, each with different effects on your health and well-being:
1.Cervical: A cervical spinal cord injury affects one of the top 8 vertebrae, near the base of the head and neck. These tend to be the most severe forms of complete SCI, as the cervical region lies closest to the brain: Injuries here often result in tetraplegia or full-body paralysis.
2.Thoracic: Thoracic spinal cord injuries occur in the middle of the spinal column, which primarily controls the back, shoulders, abdominal and stomach muscles. Depending on the severity of the injury, you may be able to improve partial paralysis and regain some upper-body movement.
3.Lumbar: A lumbar injury affects the area behind your hips and legs. This portion of the spine carries the most weight, so lumbar spinal cord injuries can result in paraplegia in the lower body. However, these SCIs are rarely life-threatening, and patients can often regain independence through use of a wheelchair or other mobility devices.
4.Sacral: As the lowest point of the spinal cord, injuries to the sacral spine affect the groin, hips, and inner thighs. Loss of bladder and bowel control are the most likely result.
What Are the Most Common Causes of Spinal Cord Injuries?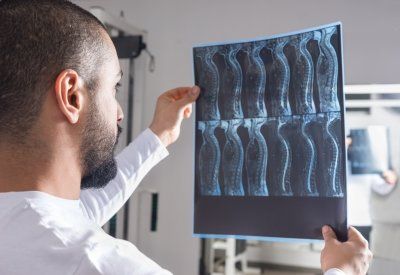 The National Spinal Cord Injury Statistical Center has stated that car accidents and other motor vehicle crashes are the number one cause of spinal cord injuries, with more than 38% of all SCIs originating after a serious car crash. The next most common cause is slipping and falling accidents, making up 30% of the total. If you're one of the 285,000 people currently living with a spinal cord injury in the United States, it's highly possible that another party is liable for your injuries, either through negligence while driving, or through failing to properly maintain premises and prevent a fall.
Get the Skilled and Compassionate Representation You Need
At Burnett Wilson Law, we handle many cases where lives were forever altered by negligence. When you sustain any type of spinal cord injury, treatment can cost up to $1 million the first year alone – and you should not have to face these daunting medical expenses without proper financial assistance. Our Omaha personal injury attorneys are here for you during this difficult time, and can serve you with dedication and unique experience.
Ready to discuss your case with an experienced spinal cord injury lawyer? Contact Burnett Wilson Law to fight for a better future.
"David Thompson with Burnett Wilson Law guided us professionally and kindly. He has consistently shown compassion and caring for our family's well-being."

- Greg J.

"They were educational, patient, personable and extremely professional!"

- Shirley C.

"They treated us with the utmost respect and professionalism and made a difficult situation easier for us than I expected. I would recommend them for estate planning, and will be using them for my wife and I when we set ours up."

- Former Client