Injured in Omaha? Contact Our Award-Winning Lawyers
Omaha Motorcycle Accident Attorneys
Representation for Victims of Nebraska Motorcycle Accidents
Although motorcyclists have the same rights on the road as other drivers, they face unique challenges and are extremely vulnerable to other drivers' careless actions. When a motorcycle wreck occurs, the consequences are often life-altering or even fatal.
We Strive to End the Stigma Against Motorcyclists
We support motorcycle awareness and recognize the many good reasons people choose to ride, including convenience, economy, and pleasure. If you have been hurt — or you have tragically lost a family member — due to another motorist's negligence, our legal team will investigate, build the most compelling case possible, and rigorously pursue every dollar available to help you recover.
---
Backed by decades of combined experience, our motorcycle accident lawyers in Omaha can fight for your rights. Call (402) 810-8611 to begin a free case evaluation!
---
On This Page:
Maximizing Compensation for Motorcycle Injuries
Our practice in personal injury and wrongful death is led by widely respected, trial-proven attorneys Joe Risko and Andy Wilson. As their many favorable verdicts and settlements show, they cannot be intimidated by the seriousness or complexity of motorcycle accident cases.
We can dedicate our full efforts to maximizing compensation in your case involving the following:
A serious motorcycle accident on virtually any roadway in Nebraska or Iowa, from interstates such as I-80 and I-29 to a U.S. highway, rural road or city street
Catastrophic injuries such as traumatic brain injuries and head trauma, spinal cord injuries, other back and neck injuries, amputations, bone fractures, crush injuries or burns
Motorcycle wrecks caused by drunk driving, distracted driving, failure to yield to a motorcycle or any other type of negligence
Other motorcycle and vehicle accidents occurring in unsafe highway construction zones or related to other problems with road conditions
What Kind of Compensation Can You Get for a Motorcycle Accident?
The amount of compensation you will be eligible for after your accident will depend primarily on how serious your injuries were. If you have lost a loved one in an accident, you may be eligible to receive compensation for funeral and burial expenses, loss of companionship, and loss of financial support through a wrongful death claim.
Other motorcycle accident compensation includes:
Medical expenses (hospital bills, ongoing treatment and rehabilitation)
Loss of income (due to missed work or reduced earning capacity)
Pain and suffering
Compensation for disability caused by your accident
---
At Burnett Wilson Law, accomplished Omaha motorcycle accident lawyers will treat you with great care and strive to address the wide range of legal and personal concerns you and your loved ones may be facing. Contact us today.
---
Common Motorcycle Accident Questions:
What is the Main Cause of Motorcycle Accidents?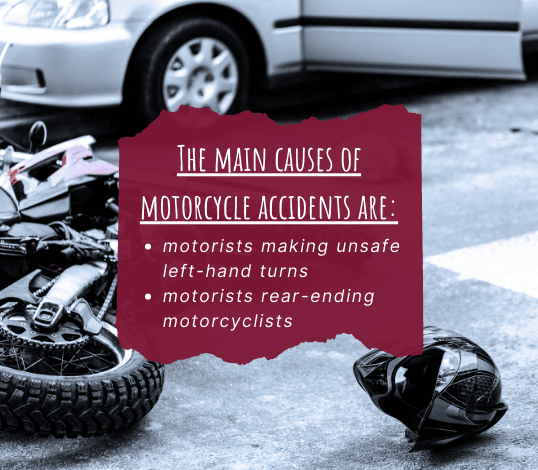 One of the primary causes of motorcycle accidents is the failure of motorists to spot and react to motorcyclists in traffic. Accidents primarily occur in heavily trafficked areas and usually happen when the motorist is not paying careful attention to the road or to other drivers around them. Some accident situations include:
Motorists making a left-hand turn and striking a motorcyclist who is passing them or proceeding straight through an intersection
Motorists rear-ending motorcyclists when they fail to stop in time
While not all motorcycle accidents are a result of motorist error, these are usually the most catastrophic types of motorcycle accidents.
How Much Is A Good Settlement for a Motorcycle Accident?
A "good" or "fair" settlement is one that compensates you not only for the out-of-pocket money you lost as a result of medical bills and treatment, but also one that takes into account the emotional distress you went through, the income that was lost as a result of missed work, and any long-term disabilities you may face as a result of your accident. While an insurance company may want to only compensate you for out-of-pocket expenses, our team works to get you a full and fair settlement.
Should I Get a Lawyer for a Motorcycle Accident?
If you've been involved in an accident, you may be wondering if you really need to get a lawyer involved. After all, isn't the insurance company supposed to handle things? Unfortunately, insurance companies most often try to protect their bottom line when it comes to paying out for motorcycle accidents. By hiring a lawyer, you can help show the insurance company (and the other party involved) that you're serious about recovering compensation for your injuries. If any of the below situations are true, you may want to consider hiring a lawyer:
Your claim has been denied, or the insurance company is giving you a low settlement offer
You had to receive extensive medical treatment following your motorcycle accident
You were forced to miss work in order to recover from your accident
The other party is refusing to admit fault for the accident, or is attempting to blame you
Can You Get PTSD from a Motorcycle Accident?
Yes. Post-traumatic Stress Disorder (or PTSD) is a psychological condition that can develop after a person experiences an extreme or traumatic event. Motorcycle accidents definitely qualify as traumatic event. While not every rider will experience PTSD after their accident, it is not uncommon. One worry that riders may have is that because PTSD is not a visible injury, they may not be able to receive compensation for it.
However, this is untrue. psychological disorders that develop from a crash can be life-changing, and can require ongoing professional treatment in order to overcome. Because of this, your motorcycle injury lawyer should take into account any post-traumatic stress and work to get you fair compensation for the treatment you will need going forward.
What Types of Injuries are Most Common in Motorcycle Accidents?
Injuries sustained in a motorcycle crash tend to be more serious than the average car accident injuries. This is because when someone is thrown from a motorcycle they have less protection than someone who is contained in a vehicle or wearing a seatbelt. Some of the most common motorcycle injuries include:
Road rash
Broken, fractured or crushed bones
Amputation
Lacerations or serious gashes
Internal organ damage
What Should You Do After a Motorcycle Accident?
There are several things you need to do immediately following your motorcycle accident if you want to protect your rights and give yourself the best shot at recovering fair compensation later on:
Call the police if they have no already been notified
Provide a statement detailing your version of events and what you believe happened
Exchange information with the driver; be sure to get their insurance info, driver's license number and plate number, etc.
Take photos of the crash scene, your bike, any injuries you sustained, etc.
Seek medical attention even if you think you may be uninjured
Notify your insurance company about the accident, but avoid providing too much information
Contact a top-tier motorcycle accident lawyer and discuss your situation in a free consultation
Nebraska Motorcycle Laws
Before riding your motorcycle in any state, you should have a basic understanding of the rules that apply to you. Some of the most common rules that change from one state to the next are whether or not you're required to wear a helmet, and whether or not lane-splitting is permitted.
Nebraska Motorcycle Helmet Laws:
Unlike other states, Nebraska requires all motorcyclists (regardless of age) to wear a helmet while riding. Failure to observe this law may result in you receiving a ticket and may also lead to severe head injuries in you are involved in a crash.
Can You Split Lanes In Nebraska?
In Nebraska, lane-splitting is against the law as it is believed to put both motorcyclists and motorists at higher risk for accidents due to visibility.
Can Motorcycles Ride Side By Side in Nebraska?
While it is illegal for motorcycles to ride alongside another motor vehicle such as a car or truck, it is not illegal for two motorcyclists to ride alongside each other in Nevada.
Do You Need a Motorcycle License in Nebraska?
Motorcycle riders are required to obtain a Nebraska motorcycle license (Class M) or license endorsement; they may also be required to obtain a motorcycle provisional operator's permit.
---
If you are interested in determining what your case is worth, contact our firm today to discuss your accident in a free case evaluation with our motorcycle accident attorneys in Omaha.
---
Recommended Reading:
Turn To Caring, Determined Motorcycle Accident Attorneys in Omaha!
At our law firm, you will be treated like family by professionals who have the knowledge and experience to earn results that can help you put your life back together. With years of experience and extensive resources, Burnett Wilson Law can fight for the compensation you need and deserve. When you call our office, you will almost always be talking to a lawyer, not constantly dealing with an answering machine or receptionist. You are our priority and we communicate that through everything we do.
Families We've Helped
"They have a great legal team with the knowledge and experience in many different specialties of law."
- Former Client