Omaha Car Accident Attorney
​Car Accident Lawyers in Omaha
Let Our Omaha Auto AccidenT Attorneys Fight For You

​


​​Motor vehicle accidents occur every day across Nebraska and Iowa. The human costs are devastating when crashes cause serious injury or death. Even the most skilled, cautious drivers are vulnerable to others' driving errors, dangerous road conditions, and other challenges.
After any serious car, trucking, motorcycle or other roadway accident, your ability to achieve a maximum recovery will likely depend on the legal counsel you choose.
Work with a BBB® Accredited Firm
Burnett Wilson Law is here to help in every way we can if you or a family member has been hurt in a car accident. Led in this practice area by AV Preeminent-rated attorneys Joe Risko and Andy Wilson, our team of car accident attorneys in Omaha can thoroughly investigate your case from every angle to pursue all available compensation. We handle all types of car accident cases, including those involving distracted drivers, intoxicated drivers, rideshare companies, and more.
---
Injured in a car accident? Call our experienced auto accident attorneys in Omaha at (402) 810-8611 today for more information or fill out our online contact form.
---
On This Page:
Don't Wait to File Your Car Accident Injury Claim
According to the Nebraska Revised Statute 25-207, auto accident victims have four years to file a personal injury claim or they will most likely lose their right to file a claim and receive compensation. This is called the statute of limitations. In Nebraska, the statute of limitations varies depending on the type of personal injury claim.
For example, if a car accident victims suffer fatal injuries as a result of the crash and their family would like to file a wrongful death suit they would have only two years to file a wrongful death claim instead of four. Nebraska does recognize some exceptions to the statute of limitations, allowing some to the extent the filing time period but only if they meet very specific prerequisites. An auto accident injury attorney from our firm will be able to tell you if you qualify for an extension to the statute of limitations.
What Is the Contributory Negligence Rule in Nebraska?
Many persons involved in accidents often wonder, "Can I still recover compensation if I was partially at fault for the accident?" The answer to this question may vary. According to Nebraska negligence laws, if a plaintiff is equally negligent as her or his defendant, he or she may not be able to recover any damages.
However, if the plaintiff is considered less negligent than the other driver is or the plaintiff is completely faultless, he or she may be able to recover monetary compensation.
How Much Compensation Will I Get for a Car Accident Injury?
The amount of compensation you receive will depend on the types of injuries you have suffered. If you have experienced catastrophic injuries that will forever alter your ability to work or live a normal life, you will receive more compensation than someone who has only suffered whiplash as a result of their accident.
In general, our team will fight to get you compensation for the following damages:
Medical expenses
Physical therapy costs
Physical pain
Emotional suffering
Lost wages
Because each accident case is completely different, it is important for accident victims to contact experienced legal advocacy right away.
What Injuries are Common in Car Accidents?
Some of the most common injuries sustained in car accidents include:
Soft tissue injuries (whiplash, sprained or torn muscles)
Broken or fractured bones
Shoulder, wrist, ankle, and knee injuries
Cuts, lacerations, scarring and disfigurement
Serious spinal cord injuries (slipped discs, damaged nerves, paralysis, etc)
Traumatic brain injuries (including concussions)
Road rash and other severe burns
Amputation or loss of limb
Emotional damage including PTSD
What to Do After a Car Accident in Nebraska
The following are the steps you should take immediately after a car accident in Nebraska:
Stay calm and check for any significant injuries. If any passengers are in your car, make sure that they are also safe.
Move your car away from danger. Check if your vehicle is safe enough to drive, then you could either pull over to the side of the road or sidewalk in order to avoid any further damage.
Call law enforcement and your insurance company. No matter if it's a substantial or minor accident, contact police to obtain a police report for your accident. You are also contractually required to report the accident to your insurer.
Take photographs. Make sure you document each vehicle, the damage sustained, as well as the road and weather conditions. If you sustained any injuries, make sure you also photograph them.
Exchange information with the other driver. While you can do this yourself, you could also have a police officer obtain this information for you.
Keep a file. Maintain a file for all accident-related material in case you must provide information to the other insurance company or if you go to court.
Contact your attorney. If the other insurance company isn't cooperating with your demands or you need your medical bills to be paid, a car accident lawyer is capable of fighting for you while you recover from the accident.
Who Pays Your Medical Bills While You Recover?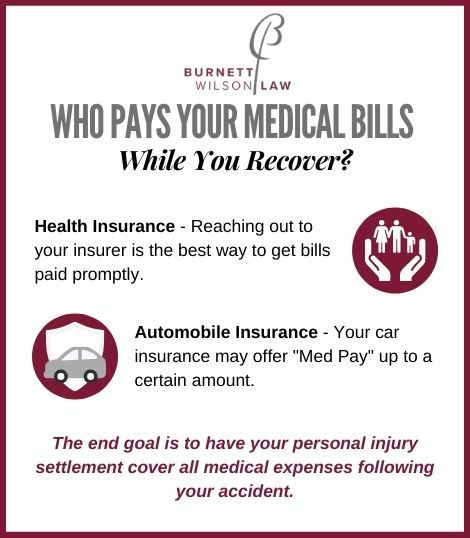 The negligent driver is ultimately responsible for your bills, however, the law does not require the negligent driver or his/her car insurance company to pay bills immediately or even after months and months of waiting following a car accident.
The law allows the negligent driver and their insurance company to pay off the bills at the end of your case. This inconvenient truth requires you to be responsible until your case is settled or tried to a jury. The best solution is to use:
Health insurance - If you have health insurance, submitting your medical bills to your insurer is the best way to be sure that they will be paid promptly. If you have been in a car accident, the insurer will likely seek reimbursement at the end of the case, but you will be allowed to claim the entirety of your medical bills as damages if you go forward with a personal injury suit.
Your own Automobile Insurance Medical Payment coverage - Many auto insurance policies come with "Med Pay" coverage up to a certain amount. It is important to realize that these limits are often low, and will usually not cover all of your medical expenses if you've been injured in a car accident, but they can be used to pay your health insurance deductible or other medical bills your health insurance refuses to pay.
The providers of your medical care may place a lien on your settlement - If you're seeking damages from another party as a result of your auto accident injury, your health care providers may claim a legal right to be paid out of your settlement.
With multiple insurance companies and third parties involved, sorting through these details can become very complicated and exhausting. Working with an Omaha auto accident lawyer from Burnett Wilson Law that has the experience and expertise to keep your medical care in place is essential to a full recovery.
Nebraska gives you a number of options to seek relief from medical bills while you are waiting to end your treatment. The best option for you should be determined after careful examination of all the facts of your case.
Is It Worth Getting a Car Accident Attorney?
The answer to this question will depend primarily on how serious your accident was, and what kind of damages you are facing. If you were involved in a minor fender bender and insurance is willing to cover all of the damages, you may not need to hire a lawyer to represent you. However, if you were injured in your accident, or if the insurance company is refusing to offer a fair settlement, you may want to consider hiring a Omaha accident lawyer who will fight to get you the compensation you deserve.
The best way to determine if you will need a lawyer is to call our office and discuss your situation in an initial consultation. Our auto accident injury attorneys in Omaha can let you know what we think would be in your best interest.
How Much Does a Car Accident Lawyer Cost?
Our firm prides itself on providing personal injury representation on a "contingency fee" basis. This means that you only pay us for our services if we successfully recover compensation on your behalf. If we win your case, our fee is deducted from your settlement as a percentage, which means you don't have to pay anything out-of-pocket or up-front in order to get started on your case. If we are unable to recover compensation on your behalf, you won't owe us a cent.
Handling a Variety of Car Accident Cases in Nebraska
Our decades of successful advocacy for auto accident victims and their families has enabled many people to get quality medical care, put their lives back together and move forward.
Our knowledge and capabilities cover:
Wrecks involving all types of vehicles and circumstances, including motorcycle accidents, bicycle accidents, pedestrian accidents and truck accidents
Auto accidents on interstate highways such as I-29, I-80 and I-680, highways such as U.S. 6, U.S. 30, U.S. 77, U.S. 75 and U.S. 34, state highways, county roads, urban streets and roads in residential areas
All types of collisions and forms of driver negligence, ranging from head-on, rear-end and side-impact accidents caused by drunk or reckless driving to unavoidable crashes in dangerous highway construction zones
We are adamant in our support of traffic safety education and responsible driving practices — but no one can completely control what happens when they travel. In the aftermath, fault may be disputed.
Depend on an Omaha Car Accident Attorney for Just Compensation!
Depending solely on insurance companies to treat you fairly is a serious risk. The best step you can take is to consult a conscientious, experienced lawyer who will treat you with care and go the distance to help you recover. Our Omaha accident attorneys are backed by decades of experience and will work to obtain compensation that meets your needs and secures your future.
---
If you were injured in a car accident, contact our Omaha auto accident lawyers at Burnett Wilson Law to start fighting for the compensation you deserve today.
---
Recommended Reading:
Families We've Helped
"They have a great legal team with the knowledge and experience in many different specialties of law."
- Former Client