Omaha Truck Accident Attorneys
Representation Backed by Decades of Collective Experience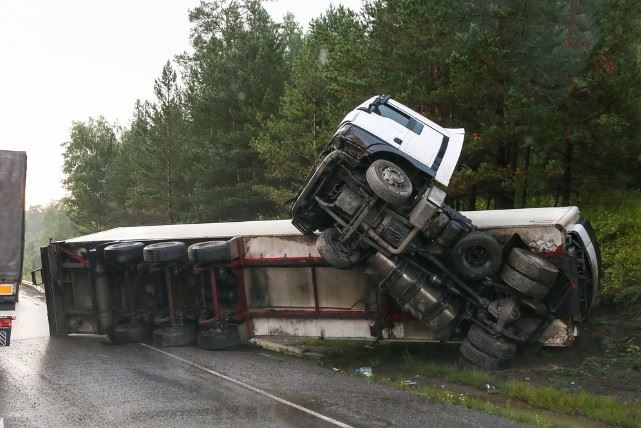 The high density of commercial truck traffic on roadways throughout Nebraska and Iowa is a constant challenge for other motorists. Massive 18-wheelers, construction rigs, tankers, equipment haulers and other trucks accelerate far more slowly, require far greater distance to stop, and generally operate much differently than passenger vehicles. Most importantly, when a collision occurs, the consequences for anyone in an ordinary vehicle are often devastating.
Trucking accident claims are more complex than ordinary car accident claims. If you or a family member is suffering after a wreck involving a commercial vehicle, it is essential to get experienced legal counsel involved as promptly as you can. At Burnett Wilson Law, our experienced Omaha truck accident lawyers will move decisively to protect your rights.
Backed by decades of experience, we will handle your case with the utmost professionalism and care. Contact us to learn more about your options in a free case evaluation.
On This Page:
Our Approach to Truck Accident Cases
Led by our attorneys Joe Risko and Andy Wilson, we counsel our personal injury clients and families grieving a wrongful death with compassion and pursue every angle available to maximize their financial recoveries.
Our approach includes the following:
Conducting a thorough investigation of the truck accident scene, involving top-quality experts in accident reconstruction if needed, to recover evidence and analyze exactly what happened
Considering all potential causes of a trucking accident — including violations of state or federal laws intended to prevent driver fatigue, maintenance failures, driver intoxication and other factors sometimes concealed by trucking companies and their insurance companies
Building a compelling picture and accounting of the total impact of the accident on your life, in order to recover maximum compensation for medical treatment, lost wages, loss of companionship and other damages
Prioritizing your well-being and future as we evaluate all legal options and keep you actively informed through every phase of your case
Common Causes of Truck Accidents in Nebraska
Some of the most common causes of semi-truck accidents include:
Fatigued driving
Driving under the influence
Aggressive driving or speeding
Poor weather conditions (particularly in the winter)
Distracted driving
Poor judgment or lack of experience
Poor truck maintenance
Overloaded or poorly loaded cargo
Negligent hiring practices
Disregard for traffic laws (failure to yield, running red lights, etc.)
Truck Driver Regulations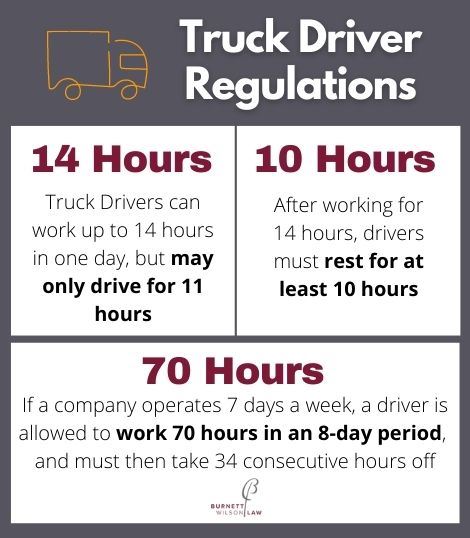 While commercial trucks play an important role in our society, they can also pose a serious risk to other drivers on the road in the event of an accident. Because of this Truck drivers are heavily regulated by the Federal Motor Carrier Safety Administration (FMCSA). The FMCSA regulated many aspects of the trucking industry, one of these important regulations is called the hours of service regulations.
The Hours of Service Regulation States:
Truckers can work up to 14-hours in a given day, however, in this time period they can only drive for 11 hours. The remaining three hours must be spent on meal or rest breaks.
After the 14-hour workday is over, drivers must rest for at least 10 hours before returning to work.
Truckers also must take days off work at regular intervals. If a trucking company is open seven days a week a driver is only allowed to work 70 hours in an eight-day period before taking at least 34 consecutive hours off. If a trucking company is open less than seven days a week than a driver is only allowed to work 60 hours in a seven-day period before taking 34 hours off.
Since tired drivers are much more likely to get in an accident while driving these rules are crucial to protecting other motorists on the road. Unfortunately, it is not uncommon for truckers to break these rules, either by their own volition or at the encouragement of the company. In rarer circumstances, these regulations are modified in times of national emergency, in order to help get supplies where they need to go faster, such as in the recent COVID-19 crisis. No matter the case, the result is the same, more tired truck drivers and more accidents.
Don't wait to get started. Call our truck accident lawyers in Omaha to schedule a free, no-obligation consultation today.
Turn To Our Experienced & Compassionate Advocates!
Fault is often strongly contested in trucking accident cases. Insurers know that their liability in a catastrophic injury or wrongful death matter is extremely significant, and truckers and their employers want to protect their safety records. Choose only the most experienced truck accident attorneys in Omaha for your representation during this time.
For the focused representation you and your family deserve in this pivotal time, we encourage you to turn to our professional family. We will provide a free consultation, and you will pay us no fees until we take your case and earn compensation for you.
Call (402) 810-8611 for more information about your options!
"David Thompson with Burnett Wilson Law guided us professionally and kindly. He has consistently shown compassion and caring for our family's well-being."

- Greg J.

"They were educational, patient, personable and extremely professional!"

- Shirley C.

"They treated us with the utmost respect and professionalism and made a difficult situation easier for us than I expected. I would recommend them for estate planning, and will be using them for my wife and I when we set ours up."

- Former Client