In the United States, the 2010 Census recorded the greatest number and proportion of people age 65 and older in all of decennial census history: 40.3 million, or 13% of the total population. This "Boomer Generation" effect will continue for decades.
By 2050, people age 65 and older are expected to comprise 20% of the total U.S. population. The fastest growing segment of American's population consists of those 85 and up. In 2010, there were 5.8 million people aged 85 or older. By 2050, it is projected that there will be 19 million people aged 85 or older.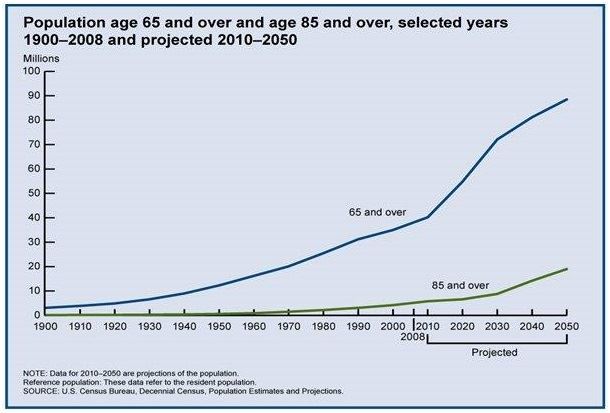 The growth of the population age 65 and over and 85 and over affects many aspects of our society, challenging families, businesses, health care providers, and policymakers, among others, to meet the needs of aging individuals.
Dramatic shifts in our nation's elderly population caused by increasingly longer life-spans virtually ensure that geriatric care demands on hospitals, nursing homes and family members will escalate in the future.
In 2012, the 65-74 age group numbered 24 million, more than 10 times that in 1900. The 75-84 age group was 13.3 million, or 17 times larger, and the 85+ group numbered 5.9 million, which was 48 times larger.
By 2040, there are projected to be 80 million older persons, over twice the number living in 2000. Within that group, the 85+ subset is projected to more than double from 5.9 million in 2012 to more than 14 million in 2040. The burdens on caregivers increase with the severity and duration of the patients' disabilities and is closely correlated with advancing age. The reality is that guiding sick loved ones through old age will be a more demanding and protracted commitment than ever before.
Are we, as a nation, ready for the elderly baby boomer generation? Only time will tell, but we need to have an adequate numbers of nurses, caregivers and nursing homes ready for the increasing demands of our aging population.
If you believe that a loved one may be the victim of nursing home neglect or elder abuse in Nebraska or Western Iowa, you should take action quickly. Call Burnett Wilson Law at (402) 810-8611 or contact us online to schedule a free consultation.